Website Traffic Series Part 2: Submtting Your Content to Blog Carnivals
On the first part of this series we covered how you can generate traffic to your website via Web Design and CSS galleries. On the this second part I want to cover one of the most basic traffic generation methods for bloggers: Blog Carnivals. (By the way, this will be a long series. The basic stuff is coming first, but soon we'll have more salty techniques, so stay tuned!)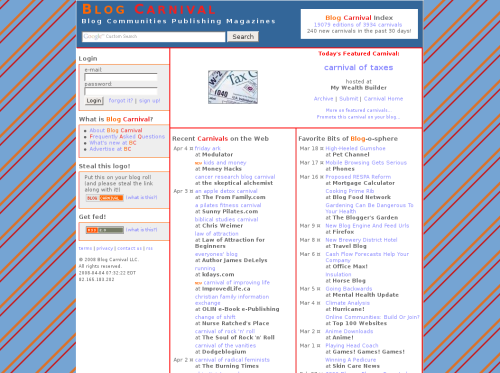 Concept: A Blog Carnival is basically an event where bloggers that cover a particular topic will get together and post a collection of their articles. Usually you have one hosting blog and the participants. The participants send the links to their articles and posts, and the hosting blog will then publish all the links in a single post.
There are all sorts of carnivals around the web: weekly, monthly, with fixed host, with variable host, standalone editions and so on.
Does it work?: Yes. If you manage to participate in a Blog Carnival, at the very minimum you will gain a couple of backlinks and some incoming visitors. Obviously the overall result will depend on the quality and size of the carnival in question.
When I was promoting my first blog a couple of years ago I used to participate in many blog carnivals, and some of them would bring as much as 500 visitors and dozens of backlinks.
Here is a quote from Steve Pavlina who also used them:
In my early traffic-building days, I'd do carnivals submissions once a week, and it helped a great deal in going from nothing to about 50,000 visitors per month
Over the time this practice lost some popularity, but you can still find valuable blog carnivals around the Internet, or even try to create your own.
How to get started: The easiest way to get started is to visit http://blogcarnival.com/bc/ and to browse around for carnivals that are aligned with your niche. Check the ones that have a "Next edition" coming out soon, and submit your best articles.
There are also many self-hosted carnivals around the web, where a blog owner will just publish a post asking for its readers to contribute with articles around a given topic, so keep an eye open for those as well.
Finally, depending on the size of your readership, you could also try to start your own carnival. You could host the first edition on your blog and then get other bloggers to host the subsequent editions.
Website Traffic Series
55 Responses to "Website Traffic Series Part 2: Submtting Your Content to Blog Carnivals"
anish

Hello Steven,

Thanks for the tip. I am new to blogging and had never heard of blogcarnival. 🙂

I am looking forward to further post on this topic.

BTW, this is my first time in your blog and i came through a link from buildabetterblog.com

Looking forward to reading your posts more often

Thanx
Anish

Mike

Carnival participation really does drive long-term, quality traffic growth. If you participate in carnivals that match your niche, you'll be reaching your true audience. Plus, all those backlinks pay off, even when the immediate traffic doesn't pour in.

One thing to be aware of is that blogcarnival.com doesn't always provide the most current information or even status for existing blog carnivals. As the owner of one successful carnival (I and the Bird) I don't have time to manually update our hosts or schedule on that site. So, don't be discouraged if a carnival you'd like to participate in is listed as inactive. Do some more digging.

The bonus payoff for participating in a blog carnival is the opportunity to host. This task can be challenging, but extremely rewarding. If you're hosting a blog carnival, here's my definitive guide on how to be the host with the most!

Daniel Scocco

Mike, thanks for the input.

Susan

Interesting topic! I am going to check out the blog carnivals now.

Thanks for the information, Daniel & Mike!

Cindy Szponder

I'd heard about blog carnivals before, but hadn't gotten around to finding any yet. Thanks for the link!

jonsonroth

Here's the truth of blog carnivals: You'll get the same submitters over and over – many of whom who are poor writers – who will never link back to you because someone told them reciprocal linking was bad.

Blog carnivals, in my experience, aren't worth the trouble if you're just looking for traffic and backlinks. All you will get out of them, besides a headache, is provide some link love. That's the short-term effect. On the other hand, if you can make it through six months of mind-numbing carnival host tasks, with a regular weekly carnival in a growing niche, you MIGHT end up with a successful carnival that does build your backlink profile and thus your traffic.

Use blog carnivals only as a social tool and you're less likely to be disappointed.

Damien Van Vroenhoven

Great post, I've been investigating blog carnivals recently and even wrote a post defining them on my blog.

One of the cooler things some blog carnivals do is that they travel from blog to blog, drawing in a diverse group of participants with every edition, adding new perspectives each time.

Now that you've talked about it, are there any blog carnivals coming up for this site?

Maria Reyes-McDavis

I can attest, blog carnivals really work. One caveat is to be really careful of who you're "associating" with in those carnivals (made this mistake a year ago)…

I agree with "jonsonroth" — and expand on that, the real benefit I've found is the "social" part of blog carnivals can be very rewarding in networking with other bloggers who can support you and vice versa.

Thanks for a great tip, most bloggers don't talk about 🙂
Maria 🙂

Paul Squires

"In my early traffic-building days, I'd do carnivals submissions once a week, and it helped a great deal in going from nothing to about 50,000 visitors per month" Bullshit. The only people go to the carnival site is to post their links, next to noone uses them for reading pruposes. I suspect the only reason you are telling people this is because you own the carnival site as well.

Daniel Scocco

Paul, you referring to me or to Steve Pavlina :)?

Paul Squires

To anyone who claims they got anywhere near 50,000 hits from a blog carnival.

WordPress SEO

I find that BlogCarnival is a great way to bring traffic to my blogs!

Daniel Scocco

And who said that?

Steve Pavlina said that through promoting his blog on blog carnivals (many of them!) after a while (probably a couple of months) his blog was getting 50,000 monthly visits, or around 1666 daily visits.

Looks reasonable for me.

He was not saying that he got 50,000 hits from one blog carnival.

Voice Of Dingchao

Sounds it's a good way to drive traffic, i will try it by myself.

Thanks for sharing!

Your honest reader,
Han Dingchao
From China

Graham

Never heard of a Blog Carnival before. Where's the reading material.

Michelle

just this evening on my way home from work, i was thinking about doing a blog carnival. glad you reminded me!

Paul Squires

Exactly. It's not a genuine endorsement of the product, carefully worded to avoid any responsibility, I am trying to help you out here guys, I've been a quiet subscriber to your feed for a long time, checking in when things looked interesting, and I admit to learning a great deal from it, not always what you were trying to teach, and I'm telling you that that openness in the endorsement, not an acutal commitment to how many numbers just a vague shove in the direction of the link, and your obvious reluctance to address the issue of your motivation, ie, is there a commercial link, a propreitary double interest behind it, and that i saw the site had been sold for big buckeroonies, which is to say even the appearance of dodginess, not actual dodginess, who can ever know for sure? but all you got is a reputation for credibility and even though you don't care about one subscriber, check you numbers i been here a long time, well you just lost one,

Daniel Scocco

Paul, I have no idea what you talking about :).

Paul Squires

well that is sad, i thought you were a salesman,oh well,

Daniel Scocco

Just to make it clear, I have no relation whatsoever with that blog carnival website. I don't accept sponsored reviews, and I almost don't even use affiliate links on this site (when I do I explicit them).

My readers know that I am 100% transparent on all my endeavors. You said you have been reading the blog for monthy, well, you missed this point then.

one million euro blog

Thanks alot. I'm going to participate in these carnivals.

Ali from TheOfficeDiet

I came across that quote from Steve before I started The Office Diet, and it did encourage me to submit to blog carnivals. I've not seen much traffic from these (I get maybe 2-3 hits a day from the various carnivals I've submitted to) but it has helped HUGELY in building up the number of links to The Office Diet out there on the web.

In my experience, though, StumbleUpon has been by far the best source of traffic, followed by forums and comments on other blogs.

Ali

Chad

I just went to the Blog Carnival site and got this message..

"Blog Carnival Temporarily Unavailable"

Does this happen often? Can anyone recommend another "blog carnival" site? My blog is almost a year old and it's finally picking up steam. check out my site and ad your self to our do-follow blogroll at:
http://www.lasnark.com/list-of-do-follow-blogs-add-your-blog-to-the-list-of-do-follow-blogs

Thanks,
Chad

Daniel Scocco

@Chad, its showing that to me as well. Weird, it is the first time I came across that error.

Renee

I enter as many carnivals that I can find that are related to my subject matter, feminism, racism, politics etc. I may even write a post with the express desire to aim it at a carnival. I have found that I don't get alot of hits from them however the people that are coming are interested in my subject matter and some have become regular commentators on my blog. I can see that slowly overtime this will lead to a good readership base.

Cory from Dental Heroes

I'm going to give a few relevant Blog Carnivals a shot. To me, it seems like just one small way to leverage your traffic. There's probably little downside here.

kovilen

Thanks for the tips dude!!
———————————
http://webspot.olympe-network.com/

Traffic2MyPage.com

if you are going to submit your site to blog carnivals… if they get accepted then make sure u go and bookmark those sites on digg, stumbleupon etc so that people visit the sites!

Peter Szabo

Never heard of a Blog Carnival before. Where's the reading material.

Traffic Fusion

For some reason I have never heard of Blog carnivals before… but from what I am seeing here, I sure am going to try it out.

If I can get some good traffic from it, then why not try 🙂

Lucy

This is new to me as well and even though there are some contradictions here I will go ahead and give it a go. Thanks for the good series!

Logo Animation

This is a great series – that's for sharing it

DutchSchoolKid

Wow! I can really learn from this blog, I will add it to my reader!

allwyn

when r these carnivals hosted .. i have seen ne blog saying it has a carnival goin or sumthing like ..i wud like to read these carnivals once

Technolik

great way to make some easy traffic 🙂 thanks

medyum

Great post, I've been investigating blog carnivals recently and even wrote a post defining them on my blog.One of the cooler things some blog carnivals do is that they travel from blog to blog, drawing in a diverse group of participants with every edition, adding new perspectives each time.

Ryan

I just started a carnival at my website. Any tips on growing the carnival? I'm trying to participate in other carnivals and build relationships with bloggers. I'm also thinking about incentives for hosts early on to help build the brand. Let me know.

Thanks,
Ryan

Eryaman hali yikama

Good information and good way your blog post. Good luck blogger man.
Comments are closed.