Website Traffic Series Part 10: Using Email Signatures
There are techniques that will send thousands of unique visitors to your website. Others will just send a hand full of them. Both types should be considered though, since when it comes to website traffic generation, every small bit helps.
The concept: Do you know anyone who does not use email? Depending on your profession or background, I could even ask you: Do you know anyone who does not use email heavily? The answer to both of these questions is usually "no."
Email is just pervasive these days. Whether you are a banker, an attorney, a web designer or a logistics manager, I am sure that at least 10% of your day is spent sending and replying to emails.
If that is the case, why not take advantage of this pattern and promote your website along the way? By adding a small link pointing to your website on your email signature you will be able to generate some very targeted clicks. Not a bunch of them every day, but over the time they will add up.
Does it work?: Yes, although as we stated before, do not expect to crash your servers with the traffic that will come from the email signature links.
The overall amount of clicks that you will get will also depend on the number of email messages that you exchange daily and on the relevancy of your website to the people that is exchanging emails with you.
Apart from the clicks, though, adding a link to your website might also help you in other ways. Suppose you sell stereo systems, and you are exchanging emails with a client. Should he discover your super cool blog about stereo audio after clicking on your email signature, I am sure he will be more inclided to close the deal with you.
Over the past months I also received several emails from a wide range of people that wanted to congratulate me for the interesting blog that I had, mentioning that they had just subscribed to it also. Most of those discovered the blog via my email signature.
How to get started: The good part about this technique is that it is easy to setup. Most email clients will offer you the possibility to create a custom signature with a couple of clicks. On GMail, you just need to click on "Settings" and the signature box will be right there.
I do not recommend jamming your signature with many links though. Put one link there, perhaps with an enticing message, and the receiver might click on it. Put ten links there and you will just scare the person on the other end.
Over to the readers: Do you have a link to your website on your email signature? How effective do you think this technique is for generating traffic?
Website Traffic Series
Get My Best Internet Marketing and Entrepreneurship Tips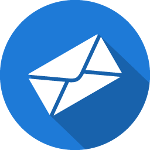 Don't worry, I only send out emails once or twice a month.
But when I do, it's because I have something valuable to share!
You don't want to miss those, and it's completely free!
28 Responses to "Website Traffic Series Part 10: Using Email Signatures"
matt

this has constantly worked for me. Like you said, it won't crash your server. When people ask how they can support my blog, I often tell them to add me to their e-mail signature.

Dan Cole

Yeah, that does work. I have a few odd referrer URLs in my WP stats and their from some mail service.

Adam Singer

A simple strategy but it definitely brings traffic. I get around 100 uniques a month through email – and I'm sure at least some of them have subscribed.

Medical Transcription Blog

Yep, slowily and steadily it adds up to the bottomline numbers.

JACKIE JACKSON

First of all, thx for including my mail ! 🙂 But I'd like you to elaborate on one thing – don't you think that most people who contact you through email will already be visitors?

However, the best thing about this method is that it doesn't hurt to include your link at the bottom, and infact it looks highly professional. So Final verdict – great tool!

devjargon

@Jackie Jackson
I agree most people that email you will either be readers or friends who have already subscribed. But what if you're emailing people. They'll get to see the link and hopefully go to it.

This is a good idea though and I don't see enough people doing it.

Todd Andrews

I agree that they work, but primarily at promoting your site to those who already know about it. Can't hurt though.

Katie

As a reader, I always click on the links in signatures-often times seeing someone's website gives you further insight into who the person is and what they do. Even if you already know them, having the information right in an email makes it more likely that you will visit their site and even bookmark it for future reference.

Daniel Scocco

@Jackie and Todd, I don't think the majority of people you exchange emails with will necessarily be your subscribers already.

Take my example for instance, I often need to email online companies, advertising networks, web design studios and so on. All of those usually don't know my blog at all.

Keep in mind I am not talking about adding a link to your blog solely to your blog email account. You should add it to your main account, or to your main accounts. The ones you will be using to talk with people from a wide range of places.

Sell Porn Make Money

Anyone know if you can create multiple signatures in Gmail? For instance if you use gmail to send from different mail accounts, can you use a different signature for each mail account?

The Masked Millionaire

I think it is a good idea. It certainly can't hurt. I also think it looks professional.

The Masked Millionaire

Gerard @ Slashdox

For me it depends actually what is on the e-mail its self. If you get the person to be interested in you, probably they would be interested to know where your from (on the internet) and to what you do. If you bore them to death, it may look to them as just another link in the World Wide Web.

Harper's Mom

DO NOT do this on your company's e-mail if it is a personal blog you are trying to promote (does that even need to be said?).

Jim

yes it does work i'v tried it for while and i got about 130 visitors per month.
i think it even better if you use email heavily as you said

jd

I get a lot of referrals from my email signature. It also acts as a bookmark for my friends who forgot the URL

Melodee Patterson

I definitely have my website address in my signature. I also "borrowed" an idea from another Virtual Assistant, and put the line "What can Short-term Solutions do for you? Take a look at this list of our services." under the address with a link to a pdf of my VA services. It's really worked for me!

Rajaie AlKorani

Don't have one, but I'm going to add it right now!

SBA

Definitely works as a marketing tool. Especially when the recipient forwards your note to other people (potential visitors). I encourage people to have multiple signatures (casual, busine url, blog url, etc.), using the one most appropriate for the email they are sending. In some systems like AOL you can get fancy with the font colors or sizes, even add a logo image. Thanks for the post.

SEO Genius

Thanks for the article Daniel, interesting subject and not one i have ever focused on for gaining traffic.

David Dunn

Thanks for that – it's a simple one but one I hadn't really thought of before now.

Hammad

thanks for the tip m8
i surely try this one

Jazzy

I didn't think this was effective, however, just yesterday someone asked me about my blog…a little weirded out [since I barely knew them] I asked how they had heard about it. She told me from a FWD she got from a mutual friend. Just like the tortoise and the hare, I guess.

lucky

I agree that they work, but primarily at promoting your site to those who already know about it. Can't hurt though.

medyum

I think it is a good idea. It certainly can't hurt. I also think it looks professional.
Comments are closed.