Best WordPress Plugins: Custom Query String
WordPress allows the user to set the number of posts that are to be displayed on every page. The problem with that feature on the Control Panel is that it affects all the types of pages around the blog. If you set this number to 5 you will have 5 posts on the Homepage, on the categories, on search results and so on.
As you can notice from my sidebar, the only way for the readers to navigate around the blog is through the categories. Having only 5 posts displayed on each category page (which is the number I use for the Homepage) is not efficient since it would force readers to browse across several pages before being able to see all the posts contained there.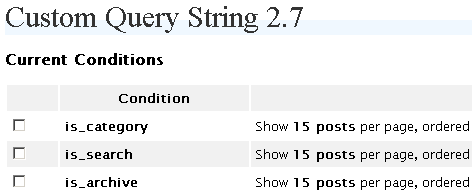 The solution for this problem is the Custom Querry String plugin (download link) . After installing it you will be able to set the number of posts (custom queries) for every single page on your website. Here are some of the pages that you will be able to customize:
author
archive
category
year
month
day
search
feed
home
Recommended Articles for You
166 Responses to "Best WordPress Plugins: Custom Query String"
Jane

I'm a beginner to this; I have your plugin uploaded and activated, and it's open for editing, but I can't figure out what to modify in order to allow multiple posts per page. Can you please help me with this?

Soumen

Thanks a lot Daniel

Tech Blog

Thats for the custom query strings 🙂 it really helped speed things up

PlanetPhillip

This is a fantastic plugin. Unfortunately when I moved host it stopped working due to a change on php version.

And I am guessing that as other hosts update their php version more people will get the same.

I get the following error
"Warning: Call-time pass-by-reference has been deprecated; If you would like to pass it by reference, modify the declaration of do_action(). If you would like to enable call-time pass-by-reference, you can set allow_call_time_pass_reference to true in your INI file in /planetphillip.com/wp-content/plugins/cqs/custom-query-string.php on line 118"

I have been told that the solution is to create a custom php.INI but I'm not technically proficient enough with shell or php to even think about that.

Can anybody help or suggest something?

TIA

Bang Kritikus

follower widgets

Laurence Flynn

I think this doesn't work as intended. When trying to set a rule for a category it simply lists it as "cat_" and the Setting > Reading value is not overridden.

Laurence Flynn

This website is a goldmine. Thanks for this plugin. You have a new subscriber!

Rod

Hi all. I use the CQS plugin… and I also like Nex Gen gallery as well. I too give a plugin I might like a try, then if it doesn't suit me I delete it… there are so many P-ins out there it would be easy for some to go overboard…

Thanks for DBT… I appreciate all the work involved.

Rod 🙂

tom

quick update – noticed it's not a theme problem. tried the same thing with the default theme and i have the same problem.

tom

hi all. i'm to have my front page display only the most recent post, but then we you click "ealier posts" you can see 10. i'm figured i could do this with CQS with the "is_paged", but when set "is_paged" to anything then my "earlier posts" link actually stops working.

maybe a bug with my theme?

Amit Banerjee

took me 2 weeks to find this one…….but at last I have made it.
Thanks daniel

One more question : My blog is about technology and computers.i want to start a new category on programming.But i dont want to show the posts of that category on my home page .I want to show those posts on the category page instead.Any plugin ?

Or should i start another Blog on a subdomain ? if the 1st trick is possible that would be a great help.

Caustin

This is a great plugin. I was wondering if anyone knew whether this plugin was still being developed, and, if so, by whom? I tried the website of the author, but could not find a mention of the plugin.

If not, here is what I am wanting to do.

The CQS plugin allows you to show a specific number of posts or all of them. If you choose a specific number of posts, ordered by, say, the title, I would love to see a numbered pagination option. So, if you have 30 posts in a category, and you want only 10 to show at a time, there would be "page 2" and "page3" pagination links to view the remainder of the posts in the specified order.

Any ideas.

Thanks in advance.

Sameer Dhoot

This is very useful plugin. Saved me a lot of time.

Ben

Does this mean also when someone does a search on Google, will the user be directed to the landing page? Just curious

Runescape Forums

Thanks for the custom-query-string mod 😀 it made everything faster

iPod Dude

Is there a way to search for items in certain categroies using this plugin? I have been looking all over for a plugin that would allow me to do this.
Comments are closed.