The Blog Post Checklist: Use Before Hitting "Publish"
How many times have you published a post, only to find out you forgot to proofread and that many typos slipped through? What about when the links you included are broken, when you used the wrong keywords, or when you forgot to optimize the post title?
As you can see, there are many things one should check before hitting the "Publish" button, and most of us forget about them. That is why I decided to create "The Blog Post Checklist," with a list of things you should check before publishing your post. You'll find it useful especially for those long, linkbait type articles you publish once in a while (what I call "killer articles").
Below you'll find a description of all the checks, but you can also download a PDF version to print and fix above your computer.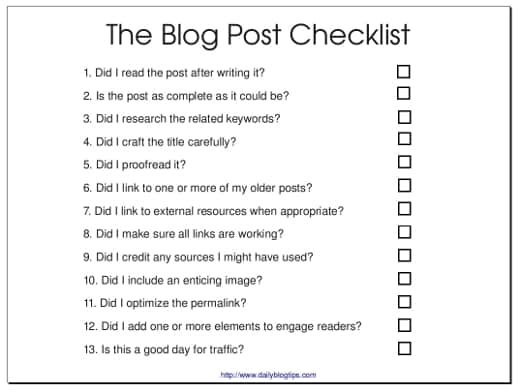 1. Did I read the post after writing it?
Common sense as it sounds, most people don't read what they just wrote before publishing it. This is a mistake, because unless you read your article as an integral piece you won't be able to tell if the whole thing makes sense, if the paragraphs and sentences are in the right order, if the arguments are solid and so on.
Before anything else, therefore, read what you just wrote from top to bottom.
2. Is the post as complete as it could be?
If you want to generate as much traffic as possible and to get as many backlinks as possible, you need to make sure that your post is as complete as it could be. If you completed the previous check you should also be able to evaluate whether or not you could add more sections and explanations.
For example, you might be writing a software review, and your post is focused on the features of the software. What about the installation process? What about the compatibility of the software with other programs? These are all aspects you could include, making the post more valuable to potential readers. If you want to read more on this topic check these 10 tips to write popular posts.
3. Did I research the related keywords?
Keywords rule search engines (and the web, as a consequence). If you want to maximize your traffic you need to use the same keywords that most people use. First of all because this will make your post easier to understand. Second because it will help with the search engine optimization.
For instance, you might be writing a post about gaming notebooks. But should you call it "gaming notebooks" or "game laptops"? After using the Google AdWords Keyword Tool you would discover that the term "game notebooks" is searched by 8,000 people every month, while "gaming laptops" is searched by over 60,000 people. This means that the latter is much more widespread, and you probably should go with it.
4. Did I craft the title carefully?
The title of your post is the most important part. Even more important than the body of the post itself, because unless the title grabs the attention of visitors, they won't read the post.
First of all make sure your title has an emotional hook. For example, you could get the reader excited by offering something of great value (e.g., "100 Photoshop Tutorials to Become a PSD Ninja"), or you could get the reader curious by making an unusual statement (e.g., "5 Things Chuck Norris Can Teach You About Marketing").
Second, remember to use the main keywords of your post in the title, as this will help with the search engine optimization.
5. Did I proofread it?
I know you have already read your post once to make sure the ideas make sense and the paragraphs are in the right order. However, you'll need to read it once more, to proofread it.
This time focus on spotting grammar and spelling mistakes. Here are a couple of tricks you can use for this purpose: read your article backwards or read it out loud. Both of these methods will allow you to focus on the single words, making it easier to spot the mistakes.
6. Did I link to one or more of my older posts?
Linking to older posts inside your blog is a practice that helps both human visitors and search bots. It helps human visitors because it lets them explore your archives, possibly complementing or expanding on the information they have just read. It helps search bots because it lets them crawl your site more efficiently, and it also helps them to understand your content (through the link anchor text).
Before publishing the post, take some time to find older posts you can link to.
7. Did I link to external resources when appropriate?
Do not be afraid of linking to external websites. You'll not lose PageRank, and you'll not lose readers.
If your content is solid, you'll only be enriching it by linking to relevant external resources. If you mention a particular tool in your post, for instance, link to it. If you mention a term that readers might not be familiar with, link to the respective Wikipedia entry.
8. Did I make sure all links are working?
All it takes to break a link is to omit a letter, a dot, or to add an extra http:// heading. For example, if you write http://www.siteyouwannalinkto.co the link is not going to work. Similarly, if you write http://http://www.siteyouwannalinkto.com the link is not going to work either. The impact on the user experience, however, is quite significant. If your visitors can't click on a link you mentioned and find the website they'll get frustrated.
Before publishing the post use the "Preview" feature of your blogging software and click on all the links to make sure they are working and pointing to the correct URL.
9. Did I credit any sources I might have used?
If your post was inspired by something you read somewhere else, credit it. Similarly, if you used information that came from a particular website or blog, make sure to mention and link to it. This will be fair with the original author, and it will also be useful to your readers, as they will be able to track where everything is coming from.
One post that inspired me to write this one was 13 Questions to Ask Before Publishing a Post On Your Blog, by Darren Rowse. Even though I had read it back in 2008, the idea probably kept wandering in my head, until I finally decided to write my own take on the issue.
10. Did I include an enticing image?
If an image is worth a thousands words, why not use one in your post? Images are a great way to entice people to read the rest of your post. They can also help with the search engine optimization, and bring some traffic from Google image search.
Check out the post Where to Find Images for Your Blog to discover the image sources I use.
11. Did I optimize the permalink?
Most publishing platforms and software allow you to edit the permalink of each post you publish. You should use this feature to make sure your permalinks are concise, and that they contain your main keywords.
Apart from making the permalink look cleaner, this will also help with your search engine optimization and possibly increase the amount of traffic you'll get from Google and company.
12. Did I add one or more elements to engage readers?
Every blog owner should be trying to build a community around his blog, and engaging readers with your content is one of the best strategies to achieve this.
Practically speaking you could ask them a question at the end of the post, include a poll, make a call to action, use their feedback directly in your post and so on.
13. Is this a good day for traffic?
Even if you have written a masterpiece, you'll not get the best possible result if you publish it on a Sunday. The best days for traffic are usually Monday, Tuesday and Wednesday. But make sure to track your traffic numbers, so you can be sure of the best day for your blog.
Second, keep an eye on international holidays. If you live in the UK, for example, you should check the list of US federal holidays and avoid publishing your killer article on any of these dates.
Over to the readers: Would you add anything to this checklist?
Recommended Articles for You
75 Responses to "The Blog Post Checklist: Use Before Hitting "Publish""
Tim Lopez

Thanks for the PDF. I'll be using for future reference.

Lisa Gorringe

Daniel

As usual, you write great common sense suggestions. (Of course, I've saved them!)

I don't know whether I skipped it or not, but if you didn't mention the importance of layout, I'd like to.

Whitespace,
Bold subheads
Para length control

all contribute to the readability of the blog.

Thanks for your tips. For me, this is one of the most worthwhile blogs I read.

Joy

What a fantastic checklist. I slipped up today. While commenting on a blog, I noticed the linkback to my most recent post had a word missing which changed the whole meaning. I've corrected it now, but it should never have got passed in the first place if I had checked better.

Some great extras added in comments as well. Thanks guys.

Joy

Blog course in spanish

I would add this one: Did I encourage Readers to leave a comment?

Sometimes our view is the only one that counts, but we forget readers are our reason of being.

Greetings from Colombia.

P.D.:very nice post!

Janet Callaway

Terrific checklist. I must admit to an "oops" or two after hitting publish. This list will definitely come in handy. Even though I know it was posted on twitter I am going to tweet and post to fb as there are many new bloggers since you first wrote it. Mahalo. Janet

Farnoosh

Hi Daniel, I was going through and I was nodding my head on every single one which is really good – I have come further than my older habits and newer blogging days :)! … until the last one….so I have liked/enjoyed publishing on Tuesdays and Fridays – not realizing Fridays are not good – I thought Fridays are peak traffic times – Sat and Sun I do believe are slower….care to comment more please on why Fridays have shown to be slower days? Thanks so much!

Alan Ashwood

This is exactly what I need. I was created with a disorganised mind, which, when I'm posting meanders and wander too much. I know my intentions are good, but get distracted while I'm scribing, leading to long posts which may not actually be getting to the point.

This will help me stop, and review what I've said, and perhaps start doing the job I wanted to do when I started.

Thanks
Alan

Olin Hyde

Great article with solid advice.

I see that you have massive domain authority (85/100) on SEOMoz. I'm relatively new to blogging and find it interesting to see how authority differs among 1st page SERP results for the search term "checklist for blogging." Clearly, density of ideas and amount of feedback count for a lot.

Encouraging people to be authentic and content-driven (rather than SEO and money motivated) might be a good thing to add.

I've burned an RSS feed to your site. Thanks.

Christian Guico

Bookmarked. I'll definitely refer to these guidelines before I hit the Publish button.

Thanks for the great article.

Budi

I did some of them, but mostly i forgot to do that. Good tips, reminds me to be more carefull on publishing a post..

Thanks to you Daniel
Comments are closed.